It is clear to say that from the very first device in the series (now in its third iteration), Apple designed the iPhone SE to include some of its most advanced features and technologies. It was important for Apple to provide more options for their existing users who want a smaller iPhone and a great value. The kind set aside from their flagships to deliver the iPhone experience at an incredible price.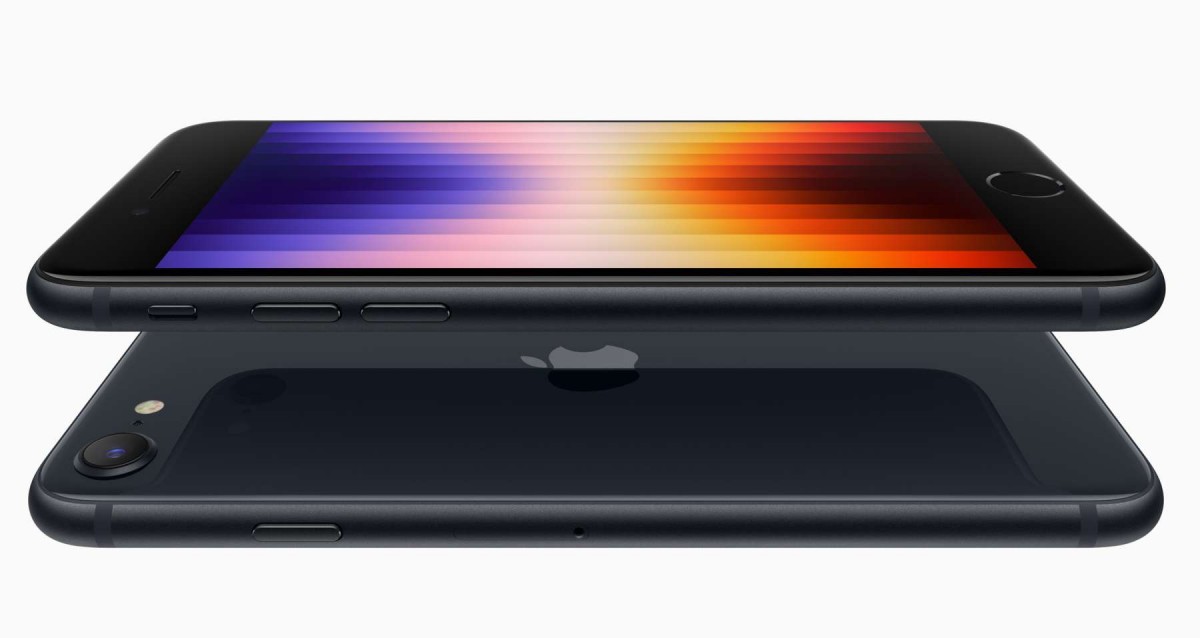 As such, the SE lineup has become a trendy model with new iPhone users, helping Apple continue to woo people into the now infamous ecosystem as they continue to add new users to the iPhone at a faster pace. Apple added more new users to the iPhone 13 lineup than in each of the previous five launches. They definitely see the iPhone SE as a means to build on this momentum.
The 2022 iPhone SE is one of those books that should never be judged by its cover. The device is not much of a looker by today's standards, but neither was the previous iPhone SE. In fact, you would be hard-pressed to find a visual difference between the two devices. They quite literally share the same body. This is very unlike Apple.
Every year, Tim Cook and Co. get on those meticulously prepared sets and announce devices with just enough difference from the previous generation for the common user to be able to differentiate them. New iPhones always have a unique identifying feature. Be it a color, the camera system design, or a marginal difference in the size of the notch. There is nothing visually special about this Special Edition phone year-on-year. That notwithstanding, Apple rarely makes mistakes, and the 2022 iPhone SE is definitely not one.
As regards to the specs, the internals are all that matters. There are, however, some points to note about the exterior, but before that:
Pros of iPhone SE3
good
Powered by A15 Bionic- Apple's most powerful mobile chip
Improved battery life
Light and Thin
Cons of iPhone SE 3
Pricier than its predecessor
Lack of night mode
Small and outdated display
And now, The exterior
With a width of 2.65 inches, a height of 5.45 inches, and a thickness of 7.3mm, the SE 3 is generally one of the most compact phones available in the smartphone market. It is splash, water, and dust resistant and is rated IP67 (maximum depth of 1 meter up to 30 minutes) under IEC standard 60529. It comes in at a weight of 144 grams.
The SE3 features a glass and aluminum design in Midnight, Starlight, and Product Red. Thanks to the toughest glass found on both the front and back, the display is more protected than its predecessor. This is the same glass as the back of iPhone 13 and iPhone 13 Pro.
One thing that the SE has that not even the Pro Max iPhones get is the Home Button with Touch ID for a secure, private, and easy way to unlock your iPhone, fill in passcodes, and make purchases with Apple Pay.
The 2022 SE sports a 4.7-inch LCD display with IPS technology. It has a 1334 x 750-pixel resolution, which brings its pixel density to 326 per inch and a 1400:1 contrast ratio, far from the near-infinite contrast ratios of good OLED displays. The maximum brightness is at 625 nits.
Other display features include True Tone, P3 wide color gamut, Haptic Touch, and a fingerprint-resistant oleophobic coating.
Speaking of the internals
One of the biggest upgrades to the SE this year is in the processor. At the heart of the iPhone SE is A15 Bionic, the same chip as in iPhone 13. It is mind-blowing that Apple can bring such a powerful chip and a level of performance to their most affordable phone. This is something only Apple can do. Oh, wait, and Xiaomi, of course. The Poco F1 was and still is a legendary device.
On testing, A15 Bionic makes nearly every experience better, from simple things like launching apps and scrolling through photos to intense workloads like processing depth information on the fly. A15 Bionic packs a powerful 6-core CPU to handle demanding tasks smoothly and efficiently. It's up to 1.8 times faster than iPhone 8 (whose body the iPhone SE lineup assimilated) and even faster than older models. This CPU is faster than all the competition at any price.
The 4-core GPU is excellent for graphics-intensive use cases and delivers a monumental improvement for people upgrading from a phone with any other processor. That means that games are reproduced smoothly and with realism, with the only bottleneck in the gaming experience possible being the display size.
Apps can take advantage of the 16-core Neural Engine, which is perfect for machine learning tasks and, according to Apple, is capable of 15.8 trillion operations per second, which is 26 times faster than iPhone 8. Anyone upgrading from a phone without a Neural Engine will definitely notice all the simple ways it makes using the iPhone easier.
The battery
Battery life is important, especially now when Apple's iPhone SE brings 5G to Apple's most affordable iPhone, so iPhone SE can take advantage of the latest generation of technology. With 5G, you get super-fast downloads and uploads, lower latency, and better experiences in more places.
iPhone SE 3 has better battery life thanks to the efficiency of A15 Bionic, the controlled integration with iOS, and Apple's internal design updates. The iPhone 13 lineup is said to have the best battery life on any smartphone, so there was always going to be an improvement of the weaknesses of the SE lineup.
Cameras
The SE 3 has a 12MP Wide ƒ/1.8 aperture camera with Digital zoom up to 5x, portrait mode with advanced bokeh and Depth Control, portrait lighting, Optical Image Stabilization (OIS) which many expensive phones do not have. The camera has a six-element lens, with LED True Tone flash with Slow Sync.
iPhone SE also has some of Apple's latest camera innovations. The 12-megapixel camera and A15 Bionic create a new camera system that enables powerful computational photography. Deep Fusion optimizes for texture and detail in every part of the photo. Smart HDR 4 applies individual color, contrast, and noise adjustments to subjects and the background. Photographic Styles brings your preferred style automatically to the image pipeline during capture while preserving skin tones. The ISP in A15 Bionic improves video quality for truer skin tones and reduced noise, especially in lower light.
The iPhone SE can do 4K video recording at 24 fps, 25 fps, 30 fps or 60 fps, and 1080p HD video recording at 25 fps, 30 fps, or 60 fps. It has an Extended dynamic range for video up to 30 fps, Optical image stabilization for video, Digital zoom up to 3x, Slo-mo video support for 1080p at 120 fps or 240 fps, Time-lapse video with stabilization, Night mode Time-lapse, Cinematic video stabilization (4K, 1080p, and 720p), and Stereo recording
The SE's 7MP front camera has a ƒ/2.2 aperture with a portrait mode with advanced bokeh and Depth Control, portrait lighting,  Deep Fusion, Smart HDR 4 for photos, Time-lapse video with stabilization, Night mode Time-lapse, Retina Flash, and cinematic video.
Performance, storage, and price
The iPhone SE 3 comes with a base storage capacity of 64GB, which is not enough by today's standard. Fortunately, there are also 128GB and 256GB storage options.
iPhone SE comes with all the incredible benefits of iOS 15, including new features like Focus to help reduce distraction to be in the moment and an all-new Maps experience. And you'll get intelligent capabilities that protect your privacy like on-device Siri and on-device dictation that just weren't possible with older phones.
iPhone SE will get the latest iOS updates for years to come. iPhone SE continues Apple's commitment to minimize the impact on the environment.
Like they did with iPhone 13, they eliminated the outer plastic wrap from Apple's packaging. And they use recycled materials in the design of the iPhone SE, like in the Taptic Engine, where they use 100% recycled rare earth elements and 100% recycled tungsten. iPhone SE is a fantastic new iPhone that brings the performance of A15 Bionic, the speed of 5G, better durability, better battery life, and advanced new camera capabilities. The 2022 SE starts at $429.
The 2020 SE was this $399 entry-level iPhone built to be a powerful net to reel in the more budget-conscious consumers into Apple's ecosystem. They swapped out the chipset from Apple's A13 to apple's A15. This time around they've basically taken that same phone bumped the price up to $429 and refreshed it.
The changes made to the SE lineup require a very attentive mind during the event. Apple has made a significant improvement to this phone right. Still, they've done it in such a way that unless you specifically watch this, the fact that Apple made no recognizable changes theory is interesting. This drives the theory that Apple would rather have you buy their very expensive iPhone 13s.
Who is the iPhone SE3 perfect for?
If you love small phones that you can basically carry around easily, this phone is for you. The iPhone SE 3 is the thinnest phone, and its weight measures up to that of the iPhone 12 mini.
The fact that this phone is 5G is another aspect that could interest you— saying no to a faster and reliable internet is hard.
Apple held on to their old design. With most things unchanged, you still get a better Touch ID, which is still an old version. So, if you like those vintages yet classic designs, this is the phone for you.
Who is it not suitable for?
If you are a blogger or a photographer, this phone may not fit your needs. Its camera is quite good, but the features are limited.
The screen on this phone is a bit small. And when exposed to direct sunlight, the screen isn't visibly or well seen. So, for big-phone-fanatics, this may not be for you.
The unlocking system is constricted to just the button, unlike in other phones where you can unlock with your face and fingerprint.
Same design better and new features
The iPhone SE 3 is a pocket-friendly purchase. It has 5G bands meaning its fast enough and will definitely get you through a couple more years without needing to do a phone change. But despite being pocket friendly and small, it still offers you a tremendous undistracted day while using it, let alone the powerful processor that comes with it.
And since the phone is small, there chances that it may keep falling are high. To avoid the small screen from getting damaged or scratched, you can get a screen protector from Tech Armor and prevent all that. Besides, a small phone with a broken screen is a huge no.