iPad Mini 6 – The Long-Overdue Update to the Mini is Coming!
After years of speculation and unending tittle-tattle in the Apple community, it seems that iPad fans might finally set their eyes on the sixth-generation iPad Mini. According to the word on the street, Apple is scheduled to announce the successor to the widely popular (*bordering cultic) iPad Mini 5 in a few weeks—and it might be a treat!
From a larger display, dialed-down bezels, juiced-up performance, to Apple Pencil support—there's a lot to look forward to when the iPad Mini 6 hits the stores. But until Apple officially unveils the long-overdue device, here are some rumors to keep you excited. Read on for more on the release date, new features, and estimated price of the upcoming iPad Mini 6.
iPad Mini 6 Release Date – The Time is Nigh, Finally!
iPad fans…pull out your calendars and draw a huge red circle around March 16. According to multiple—and relatively reliable—sources, this is the date when Apple is supposedly scheduled to showcase the long-awaited iPad Mini 6 and a couple of other devices in a virtual event (*as is the case with any other post-COVID product announcement).
As reported by MacRumors, Ming-Chi Kuo (a well-respected Apple analyst) previously announced that "We predict that Apple will launch the new 10.8 inch ‌iPad‌ and 8.5–9 inch ‌iPad mini‌ models in 2H20 and 1H21, respectively…The two new ‌iPad‌ models will follow iPhone SE's product strategy, and selling points will be the affordable price tag and the adoption of fast chips."
Kuo's prediction is backed by other sources—including Korea's Economic Daily News, ETNews, and the Japanese blog Mac Otakara.
And besides, it's in Apple's nature to announce hardware upgrades in March—case in point, the iPad Pro 12.9-inch 4th Gen that was unveiled last year on March 18 and the iPad mini 5 on March 18, 2019. For this reason, the rumors are not far-fetched.
Along with the iPad Mini 6, expect a refresh of the iPad Pro series and AirTags. The well-renowned leaker Jon Prosser recently tweeted, "AirTags are still on for March"—and when asked about the upgraded 2021 iPad Pro, he replied, "Also March, as far as I know."
PS: Kindly take the rumored release date of the iPad Mini 6 with a grain of salt—owing to the industry-wide supply chain disruptions following the pandemic.
iPad Mini 6 Design Revamped – Biggest Mini Yet?
While nothing is official yet, rumors seem to be gravitating towards an exciting bump up in screen size and a sleeker design—all without compromising the iconic compactness of the Mini-series. How so?
Similar to the latest iPad Pros, Apple is expected to achieve a more spacious iPad Mini 6 screen by simply slimming down its bezels. Mac Otakara and Ming-Chi Kuo suggest that the upcoming device will sport an 8.4-inch and 8.5 to a 9-inch display, respectively.
Display size aside, CAD renders released by Pigtou and @xleaks7 suggest that we might be treated to a complete overhaul in design. The pair—who have released on point renders in the past—believe that the iPad Mini 6 will boast of a particularly high screen-to-body ratio. It will likely have compact dimensions of 203.2 x 134.8 mm and a thickness of 6.25 mm—housing a 9.15-inch display.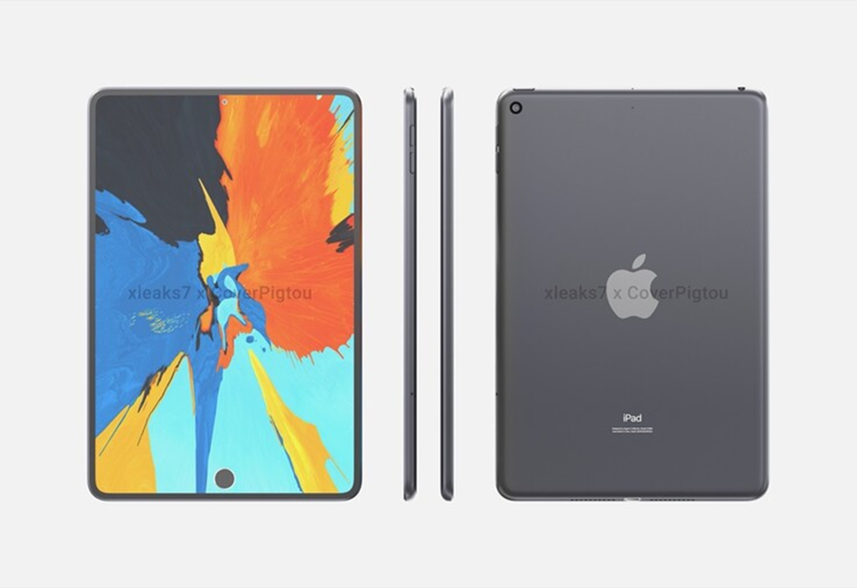 iPad Mini 6 CAD renders (Source: Pigtou & @xleaks7)
As shown in the rendered images, the device may go against everything we've grown to associate with Apple by incorporating a punch-hole selfie camera. Pigtou and @xleaks7 further believe that the iPad will feature Touch ID on either the power button or under-display.
There are also suggestions that a Mini LED for Apple products has been in the pipeline for a while now—and we might get a glimpse of the OLED-esque experience sooner than later.  We'll have to wait and see whether the display debuts in the March 2021 unveiling, or not.
iPad Mini 6 Rumored Specs and Features
Processor: An upgraded processors/chipset is a must-have in the tech world. With this in mind, the rumor mill points to either an A13 or A14 Bionic chip—up from the antiquated A8 processor.
Camera: The iPad Mini 5 had a 1.2MP selfie camera and an 8MP main camera. While the iPad is not necessarily a photography device, we at least expect camera quality that is decent enough for a Zoom meeting.
Ports: Could this be it? Couple Apple finally ditch the characteristic Lightning port for the globally-accepted USB-C port?
Apple Pencil Support: Back in September 2020, the iPad Air was imbued with Apple Pencil compatibility. We hope that the iPad Mini 6 joins the club.
iPad Mini 6 Price
When Apple released the iPad Mini 5 two years ago, the devices retailed at a starting price of $399. The idea was to create something powerful, compact, and pocket-friendly. This appealed to a huge population of tech enthusiasts—and it still does, especially with today's economic hardships.
Coupled with the report by Ming-Chi Kuo's (quoted earlier) regarding Apple's strategy of leveraging an affordable price tag as a selling point, it is fair to assume that the iPad Mini 6 will not deviate too far from its predecessor's price. So, expect to nab the Basic model for less than $500 when they hit the stores.
The Tech Armor Experience – Max the Protection, Mini the Price
iPads are productivity beasts, but only when they actually work and they're free from unsightly scratches. If you want to maintain your valuable iPad in a spick and span condition for as long as possible, give it an armor—a Tech Armor!
Our iPad screen protectors are built with unquestionable quality in mind. Whether you're in the market for an anti-glare screen, a ballistic glass, an HD clear screen protector, or even a braided Lightning cable, we got you covered—and at an affordable price!