The second half of 2022 is upon us. And with the recently concluded WWDC, it's right around the time tech rumor mills start picking up momentum in anticipation for iPhone announcements come fall—and we're here for it.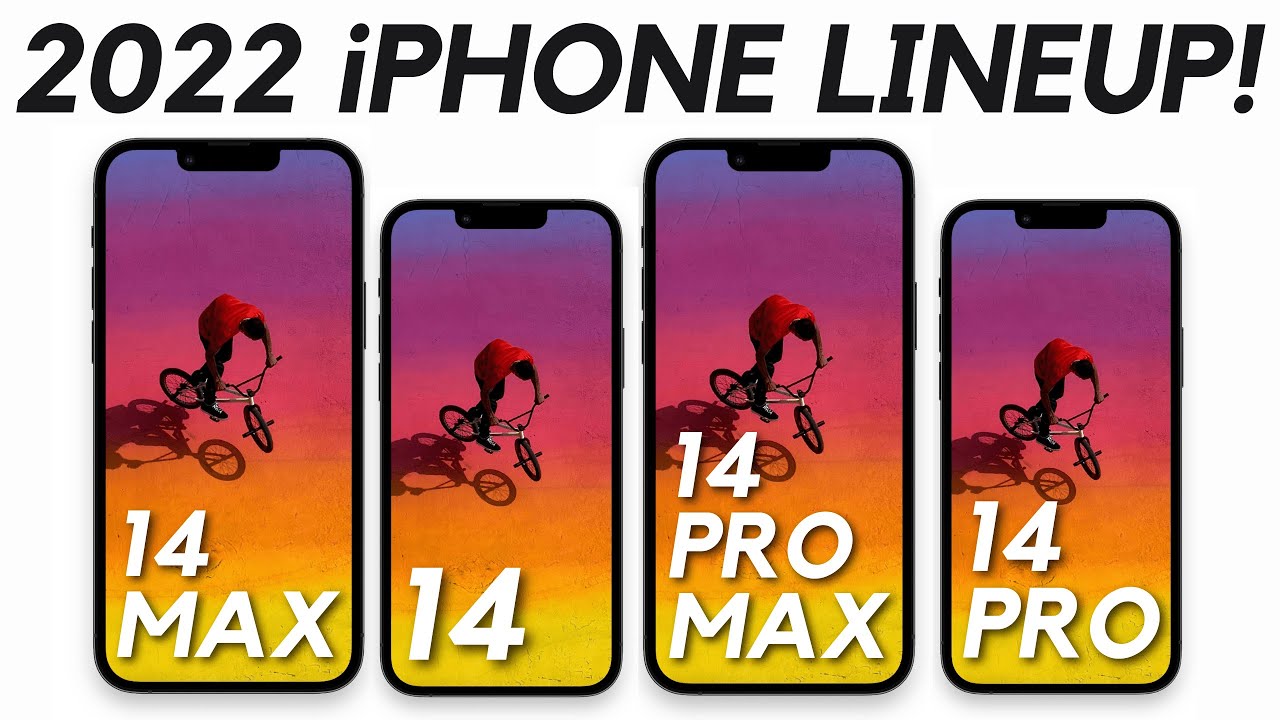 The tech streets are already awash with iPhone 14 leaks as the supply chain gradually paints a clearer picture of what to expect. And if the existing leaks are a semblance of the final product, you have reason to be excited. From a sharper main camera to an enthusing shakeup of the display to the resurfacing of Touch ID, the Apple team could be concurring some of the biggest iPhone changes in years.
Here's our roundup of all the buzz and gossip on Apple's much-anticipated 2022 iPhone lineup.
iPhone 14 Release Date Rumors – When are the Devices Dropping?
We'll see a new iPhone this fall: That's more or less set in stone leaning on historical evidence. But with purported disruptions in the supply chain and whatever marketing ploys are brewing at Curpetino, pinpointing the exact launch date is an arduous task.
According to a hypothesis by Tom's Guide, emerging reports and developments in the industry suggest that the official iPhone 14 reveal is likely slated for September 13, with the pre-orders going live on September 16. By comparison, Apple's iPhone 13 flagships were introduced on September 14, 2021—before going on sale 10 days later on September 24.
iPhone 14 Lineup Rumors – How Many and How Big?
Increasingly reliable intel hints at a "bigger is better" approach for the iPhone 14 lineup. While Apple is expected to maintain the number of phones at 4, they might ditch the poorly-received Mini for bigger screens.
According to a 2021 prediction by Nikkei Asia, "It is pretty much decided that there won't be a Mini next year, and there will be a relatively cost-effective version of the largest iPhone Pro Max instead." While the iPhone 13 Mini survived its forecasted demise, the iPhone 14 Mini likely won't be as lucky.
The Mini is expected to make way for a larger 6.7-inch model. Here are the rumored iPhone 14 models and their respective screen sizes:
| | |
| --- | --- |
| iPhone Lineup | Rumored Screen Size |
| iPhone 14 | 6.1-inch |
| iPhone 14 Pro | 6.1-inch |
| iPhone 14 Max | 6.7-inch |
| iPhone 14 Pro Max | 6.7-inch |
The "Pro" monicker depicts higher specs, while "Max" is designated for larger screens. This means that we might be seeing two 'lower-end' models and two 'higher-end ones' with different screen sizes in each category.
Another exciting leak, as seen from CAD renders shared by Twitter user ShrimpApplePro 🍤, suggests that Apple may be dialing down the bezels for the Pro Max. So same screen size, but smaller overall dimensions.
iPhone 14 Design – Going Notchless and Other Cosmetic Changes
Now to the juicy news…the infamous but iconic notch! Since the launch of the iPhone X in 2017, the notch has grown from an intrusive eyesore to an insignia that weaves into the branding fabric of the phone manufacturer. But that may be about to change.
Emerging reports suggest that Apple is looking to ax the divisive screen design in favor of a pill-shaped (Face ID sensors) and punch-hole design (selfie camera). In a January 2022 tweet, supply chain expert Ross Young claimed, "The two-hole concept will be unique to Apple, like the notch."
Schematics shared by the relatively reliable leaker, Max Weinbach, show the cut-out designs on the iPhone 14 Pro and iPhone 14 Pro Max. A purported supply chain photo further gives credence to the notchless rumor, showing the dual cut-outs on iPhone 14 Pro models.
Notch aside, we don't expect any significant cosmetic changes to the form factor of this year's iPhone lineup. The dual-triple camera housing, straight metal edges, and glossy-glass back we saw in the iPhone 13 lineup should carry to its successors—albeit a few nicks and tugs such as the potential use of a Titanium Allow frame in place of the Stainless Steel frame.
There are mixed reports of a protruding camera bump and a thicker design to house the camera and battery upgrades. Videos posted by iupdate and Mac Otakata give us a closer look at the rumored iPhone 14 designs.
iPhone 14 Display Rumors
A leak by analyst Jeff Pu (as seen on MacRumors) claims all 2022 iPhone models could feature 120Hz ProMotion display technology seen on the high-end iPhone 13 Pro models. However, other sources suggest that the cheaper 'non-Pro' models may have to contend with 60Hz refresh rates seen on LTPS OLED displays. Time will tell the path Apple decides to take.
In the other thrilling news,  Bloomberg's Mark Gurman has recently hinted at the debut of the long-overdue always-on display (AOD), claiming it will leverage a low refresh rate (up to 1Hz) to display "weather, calendars, stocks, activities, and other data while the screen remains at a low brightness and frame rate."
Gurman's claims are in line with multiple AOD references uncovered by 9to5Mac within the iOS 16 code. But you may have to upgrade to the Pro models to enjoy this feature. Users of the standard iPhone 14 model may have to settle for the lift-to-wake option.
iPhone 14 Camera – Main and Front-Facing Upgrades?
iPhones have a track record of exceptional camera quality, strategically bumping up their specs yearly to stay ahead of the curve in a viciously competitive market.
The defining camera upgrade for the 2022 lineup is rumored to be the adoption of a 48MP main camera sensor and 8K video support for the Pro models. There's also a rumored periscope camera in the works, but it might be at least a year before we see it implemented in the consumer market. These whispers are supported by reports by Apple analyst Ming-Chi Kuo, Jeff Pu, and research company TrendForce.
Over to the front-facing camera, Kuo predicts 6-part lenses, a wider f/1.9 aperture, and built-in autofocus for brighter images, fewer distortions, and improved focus in all models.
Design-wise, the iPhone 14 camera setup is expected to borrow heavily from its predecessor. We're talking about the now-familiar dual and triple camera setup.
Could We See the Return of Touch ID?
It's been a long time coming, but could 2022 be the year we finally see a comeback of Touch ID? The 2020 iPhone 12  was expected to usher in the return of the nifty feature. And when that didn't pan out, the rumor mill turned its focus to the 2021 iPhone 13 lineup. But just as with its predecessors, Touch ID was a no-show.
While we'd like to believe iPhone 14 will be it, the whispers on the ground are not as positive. Reliable analyst Ming Chi-Kuo predicts we might have to wait a little longer for Touch ID, perhaps 2023. He writes, "We have revised our forecast to delay the launch of the iPhone with under-display fingerprint to 2H23 due to lower than expected development progress."
Any little glimmers of hope are further snuffed by Mark Gurman, who reckoned that although Apple had tested the Touch ID, the company was focusing its resources on Face ID instead. As it stands, it appears the future of Touch ID is bleak.
iPhone 14 Chip Rumors – What's Under the Hood?
A new chipset is almost a given with every annual reiteration of the iPhone. Last year we saw the introduction of the 5nm A15 Bionic. But this year, the information that's coming in appears to be muddled.
Some sources suggest the iPhone 14 chipset could be a more optimized A16 Bionic on a 4nm or even 3nm process. Others claim the new A16 Bionic will be reserved for the pricier Pro models—with iPhone 14 and iPhone 14 Max featuring last year's A15 Bionic chip. While feasible, the idea of using different processors in a lineup would be a first.
Alleged benchmark scores give a glimpse into what the A16 Bionic could be packing under the hood. This is a curious category that may still hatch a flurry of rumors in the coming weeks.
iPhone 14 Prices – Bringing Budgets into Perspective
For some not-so-welcomed news: A price hike seems increasingly likely amid an already shaky economy. The iPhone 14 lineup is rumored to cost around:
iPhone 14 – $799
iPhone 14 Max – $899
iPhone 14 Pro – $1,099
iPhone 14 Pro Max – $1,199
Here are the prices of the last years iPhone 13 lineup at launch for reference:
| | | | | |
| --- | --- | --- | --- | --- |
| | 128GB | 256GB | 512GB | 1TB |
| iPhone 13 Mini | $699 | $799 | $999 | NA |
| iPhone 13 | $799 | $899 | $1,099 | NA |
| iPhone 13 Pro | $999 | $1,099 | $1,299 | $1,499 |
| iPhone 13 Pro Max | $1,099 | $1,199 | $1,399 | $1,599 |
Other Rumored iPhone 14 Specs
TechArmor – Because Your Favorite Devices Deserve the Best
The iPhone 14 lineup is still a good way off into the future. But so far, there's a lot to look forward to.  So stay tuned for more iPhone 14 rumors, gossip, and news as we tread deeper into the second half of the year.
And while you're at it, protect your devices. A little proactive action today could save you hundreds of dollars in the future. Don't take chances; protect your valuables—and we can show you how!